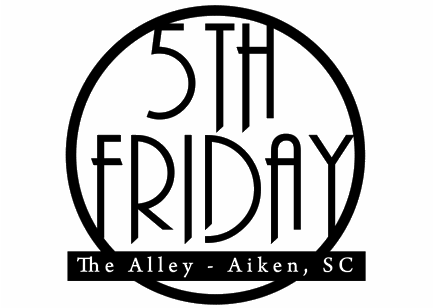 Your Friends. Your Family. Your City!
March 30th, 2012
Featuring "Preston and Weston", games and inflatables,
and food and drink specials at participating restaurants/bars.
Event Flyer
5th Friday on Facebook!
5th Friday in the Aiken Standard!

The Alley in downtown Aiken will come alive on August 31st when the Aiken Young Professionals (AYP) host "5th Friday . . . Your Friends, Your Family, Your City!" The event is the 3rd 5th Friday of 2012. There will be live music by Preston & Weston, who specialize in "spirited renditions of R&B classics, shag, beach and pop music... jazz standards, reggae, blues and even some country." (Preston and Weston website). In addition to some groovy music, there will of course be family friendly entertainment as well, including a magic show by France the Mad Hatter at 7pm, inflatables, balloon sculptures, face painting, and Xbox 360 video gaming.

The 5th Friday happening is a community service event that supports AYP's strategic plan. The plan features five steps with a vision that focuses on three areas - networking, community service, and educational events designed to nurture future leaders of the greater Aiken area. This is the second year of the 5th Friday events.

View Aiken's 5th Friday in The Alley in a larger map
The Aiken Young Professionals are planning on hosting a continuous, re-occurring community service project that will impact families, young professionals and local businesses while bolstering the intricate diverse nature of "The Alley" in beautiful Downtown Aiken". As an entity of the Greater Aiken Chamber of Commerce we understand and support the needs of local businesses to find, develop and implement strategies to improve customer base, and economic growth. As young professionals, we understand the need to provide adequate activities that provide quality entertainment, food, and social atmosphere for this growing demographic in our community. With these ideas in mind we have begun to plan and implement a program that will benefit and meet the objectives stated above for all entities involved. This event being "coined" as: "Fifth Friday… Your Friends, Your Family, Your City!"

"Fifth Friday… Your Friends, Your Family, Your City!"

"The air is light, the spirit is festive and the drinks are cold in Downtown Aiken, where, once a quarter the pedestrian-friendly streets transform into an array of entertainment and fun on FIFTH FRIDAY. Each gala, the entertainment shifts and multiplies as ice sculptors, clowns, artist and musicians serve as a back-drop for this ongoing festival of community development. Local bands perform throughout the evening, and the streets turn into canvasses for children (young and old) to decorate with chalk. FIFTH FRIDAY is a stage for local artists, musicians, and restaurants to showcase their skills, talent, and food in this vital Downtown cultural scene. It's a place to meet friends new and old, and delight in the preservation and innovation of an historical fixture. Kids come to play in this area of vast history, while visitors people-watch, sample new restaurants and revel at area bars. Welcome to… FIFTH FRIDAY!"

Our anticipated time frame includes a starting time of 6pm and ending at 10pm. This is for the sanctioned event itself, however the goal is to draw a large young professional crowd that will continue throughout the night. The times would be split with different audiences in mind with: 6pm-8pm being focused on family oriented activities/ attractions. 8pm-10pm being focused on young professional interest. Fifth Friday will have multiple forms of entertainment to include musicians, visual artists, clowns, balloonist, ice sculptors, fire throwers and other types of 'non-conventional' entertainment. Also, several forms of individual entertainment such as sidewalk chalk drawing and family/ team games such as; corn hole, horseshoes, and bag races. Fifth Friday will be sponsored and hosted by the Aiken Young Professionals with the assistance from the City of Aiken. Security will be provided by Aiken Public Safety. Business Partnerships will be imperative to this event and we would like to team up with you! From the Aiken Downtown Development Association to every Downtown business we want to have an open door, first name basis with each of you. Our request from each restaurant/bar is as follows: To select and promote two (2) main entrees of their choice and one (1) drink special. We would respectfully request that downtown merchants would extend their open hours to approximately 8pm. Advertisement would be a partnership of the Aiken Young Professionals and City of Aiken with a request to local businesses to assist us in this matter through word of mouth, social/ electronic networking sites and possible "window space" of flyers. These are just a few of our ideas to give you a basic picture of our intentions and goals for Fifth Friday. As previously stated, we are open to new suggestions and hope to continue to diversify, implement and promote business development through family activities and social networking platforms here in Our City.
Powerpoint Presentation detailing the Event